Spreadwell Construction
The Reliable Team
Your Perfect Solution
At Spreadwell, we take pride in being more than just an insulation and plastering company. We also offer a comprehensive construction service, specialising in new builds, extensions, sunrooms, renovations, and home alterations. When you're ready to create your perfect home or transform your house into the home of your dreams, our experienced and professional team is here to bring your vision to life.
Gain more useable space
Spreadwell specialises in home improvements that elevate your living spaces to a whole new level. From stunning attic conversions to well-designed extensions or sunrooms, our team excels in delivering projects that not only add value to your property but also enhance your daily living experience. Whether you seek a versatile home office, a stylish playroom for the kids, or a luxurious master bedroom, Spreadwell has the expertise to exceed your expectations.
For example, if your home feels cramped and in need of extra living space we have the perfect solution. An extension can be a game-changer, allowing you to conveniently expand your living area without the need to move to a new house. You might desire an additional bedroom with an en-suite bathroom—or a home office, a lovely casual retreat, a sunroom or Florida room, or even a playroom for the kids: we can create a perfect extension that integrates seamlessly into living part of your home.
Image: A cottage in Bruff, Co. Limerick in the process of restoration.
Renew and refresh
Making improvements to your home not only enhances its aesthetics but also significantly improves your daily life. Our expert services can unlock the full potential of your property, making it a place that truly reflects your style, needs, and aspirations.
Imagine the convenience of a beautifully designed home office, tailored to boost productivity and creativity. Envision a spacious and inviting extension that provides ample room for family gatherings and entertaining guests. Picture the added comfort and functionality of a thoughtfully revamped living space that caters to your every desire.
Embrace the joy of living in a freshly upgraded home that perfectly aligns with your lifestyle and vision, where every alteration creates a better, more harmonious living space for you to cherish for years to come. Redefine your home with us, and unlock a world of possibilities in creating your dream living environment.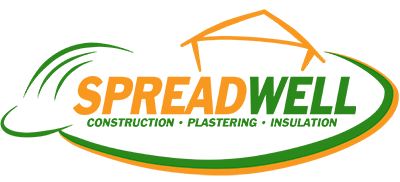 SEAI Grants
Exciting news! If you qualify for an SEAI grant, we have an exclusive offer for you. We deduct the value of your grant from your bill immediately, saving you money right from the start. It's our way of making the conversion process even more accessible and rewarding for you.
Starting from scratch?
Sometimes you just want to create something new that's tailored exactly to your needs, desires, and budget. This is where Spreadwell's capable, focused team can make your dreams come true, taking new builds from an empty site to your cosy home quickly, efficiently, and without drama.
Speak with our team to discuss your requirements today to discover how we can help you move from paper plans to perfect place.