A Range of Solutions for Everyone
Warmer, energy efficient buildings and homes
The Insulation Experts
Spreadwell is your trusted partner in insulation services with decades of unrivalled expertise in the field. We began our journey by specialising in all levels of insulation solutions, and today we are acknowledged as a leading authority in creating energy-efficient and sustainable spaces. With a strong commitment to excellence and a passion for innovation, Spreadwell continues to set the benchmark in providing cutting-edge insulation services that elevate homes and businesses to new heights of comfort and efficiency.
From attic insulation and interior drylining to exterior insulation solutions, our experts can guide and advise, ensuring the best possible results that improve your building's temperature management and exceed your expectations.
Attic Roof Insulation
Spreadwell is one of Ireland's leading roof attic insulation experts, offering a range of highly effective products designed to enhance the comfort and energy efficiency of your home or business. Whether you wish to insulate your attic, optimise your space with an attic conversion, or control heat and humidity in commercial settings, our tailored options are the perfect insulation solution.
Wall Insulation
When it comes to wall insulation, Spreadwell offers an expansive range of options to suit different house types and requirements. Understanding the characteristics of each insulation type will help you make an informed decision that aligns with your needs. Factors such as the age of your house, the wall construction, and your wish to either preserve or refresh the original façade of your house, are all taken into consideration.
Cavity Wall Insulation Extraction
Older homes and businesses may suffer from compacted and increasingly inefficient cavity wall insulation. This reduces the thermal efficiency of your premises, leaving it colder and more expensive to heat, and possibly prone to other issues, like dampness. Spreadwell effectively and efficiently removes this old insulation, to improve the insulation properties of your walls and the effectiveness of your heating.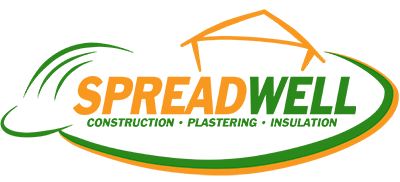 SEAI Grants
Exciting news! If you qualify for an SEAI grant, we have an exclusive offer for you. We deduct the value of your grant from your bill immediately, saving you money right from the start. It's our way of making the conversion process even more accessible and rewarding for you.